OCP Genuine US Military All Weather Poncho Liner woobie Blanket of poncho liner
US Military Poncho and Woobie ;OCP Poncho Liner

Item No.: NTPL-928
Size: 210x150 cm
Outer fabric : 310T Ribstop Nylon
Filling materials: Polyester
Pattern: OCP/ Muticam
OEM/ODM is acceptable


Army Wet Weather Poncho Liner | "OCP Woobie"
The same style seen used to add extra sleeping comfort in the rapidly changing temps of Vietnam. U.S. troops quickly discovered that while day temps might reach 100ºF, night temps could quickly drop down to 50ºF. This Liner is designed intentionally thin for lightweight, no-bulk packing. Yet the polyester lining manages to be both soft and insulating for adding a blanket of warmth when needed. Combined with a standard U.S. military poncho or similar, the result is an improvised sleep system that deals with cool night temperatures in a variety of conditions.It can also be used as an outdoor blanket, or just a rugged piece of comfort to take on your next outdoor adventure.If you are interested in our products.welcome to contact us when you free.
What is a Military Woobie?
A poncho liner, also informally known as a woobie,is a piece of field gear originating in the United States military that can be attached to a standard issue poncho to provide additional warmth, as well as being usable as a blanket, sleeping bag or protective cover. It consists of quilted nylon with a polyester filling. It is attached to the poncho by means of integral lengths of material which are looped through the poncho's eyelets.Poncho liners were first used by the U.S. military in the Vietnam War. They gained the nickname "woobie" later;
Genuine military-style warmth, built to last

Nylon shell and polyester insulation for lightweight warmth

Tie strings on corners and sides secure it to your poncho

Added material around outer edge for strength
This is the genuine army ocp poncho liner, also known as a woobie blanket,military poncho and woobie and ocp woobie. They are water resistant and used for extra warmth in the rain. You can use the ocp poncho liner's strings to tie this blanket to your poncho. Also, you can use the blanket as a sleeping bag in warmer climates. A great blanket for camping or hiking, a lot warmer than it looks!
This is not the actual poncho, this is literally just the blanket that can be used as a liner inside the poncho, there is no hole for your head in the liner.
Item No.: NTPL-928
Size: 210x150 cm
Outer fabric : 310T Ribstop Nylon
Filling materials: Polyester
Pattern: OCP/ Muticam
These go well with any Natur Outdoors poncho with grommets on the sides.
OEM/ODM is acceptable,welcome to contact us when you free.
Features Of OCP Poncho Liner :
The lightweight poncho liner or "OCP Woobie" was designed by the US military as a replacement for the wool blanket during the Vietnam war. Compared to the blanket, this is a lot lighter, a bit warmer dries faster, and can be squeezed into a pretty small space. These are Dutch army surplus, copy of the US model.
Lightweight Construction – Built with lightweight materials for extended use.

Water Resistant – Military poncho and woobie can be exposed to water for a short period of time without being damaged or saturated with water. Generally not recommended to submerge Water Resistant items unless item is made for that level of exposure.

String Tie Downs – There are strings along the corner and side for down or attaching to other pieces of gear.

Packs smaller than a football
For more information about military poncho and woobie ,welcome to Contact Us.

Applications Of OCP Poncho Liner :
Opinions among the troops generally held the poncho liner in high regard as a very useful piece of equipment, light and packable yet reasonably warm. Even when soaking wet, the poncho liner wrapped around a soldier would trap body heat.Many soldiers went to great lengths to find ways to keep their poncho liners as long as possible, even when they leave the service often upcycling or custom tailoring them into smoking jackets, hoodies, blanket coats or robes.
Blanket: Cover up anytime and stay toasty.
Tablecloth: Drape it over a few crates and you have yourself a lovely "table" covering.

Cushion: Fold it up and sit on down.
Pillow: See above but rest your head instead.
Half of a tent: Two Woobies secured together along one edge help create the perfect makeshift pup tent.
Hammock: Run paracord through the grommets and wrap them around a tree near each end. Voila, a comfy spot off the ground, perfect for a quick snooze or even a full night's rest.
Carry sack: Toss your gear on top, cinch up the edges, and throw it over your shoulder for a simple carry sack.
Privacy curtain: Fully unfolded and hanging, this makes a great "privacy" screen for anything from showers, to changing clothes, to dividing up a larger tent.
Shade maker: Block the sun from any angle by spreading it out and placing it between yourself and the harsh rays.
Hole filler: Need to fill a hole? No problem. Stuff it with a scrunched up Woobie.
Sleeping bag: Secure two Woobies together and slide right in like you would any other sleeping bag.
How the Military Poncho And Woobie works
The perfect blanket for summer use. Originally used in the Vietnam war, this became the standard-issue sleeping gear for hot climates or general summer use. It is mostly meant to be used in conjunction with the rain poncho, as a liner. The process is very simple: tie the liner to the grommets of the poncho, then button the poncho so it resembles a tube. Get in and sleep. The US Army states that the lowest manageable temperature is about +10 C°. The poncho liners are still used and loved in the US Army. The strings on these might be a tad differently placed than on some ponchos, but you'll find them in the corners anyway.Get a free quotation.


NATRUGUARD OCP Poncho Liner US Military Poncho and Woobie
The OCP Poncho Lineris strictly in accordance with SB/T10284-1997 national standards.

Warmth temperature from 5 degrees to 10 degrees


High quality waterproof fabric, standard PU waterproof coating in the back side


Different opines on colors:Multicam, MARPAT, ACU, OD green, COYOTE, BLACK, Tiger stripe, etc,





Accept all OEM/ ODM service with customized logo and package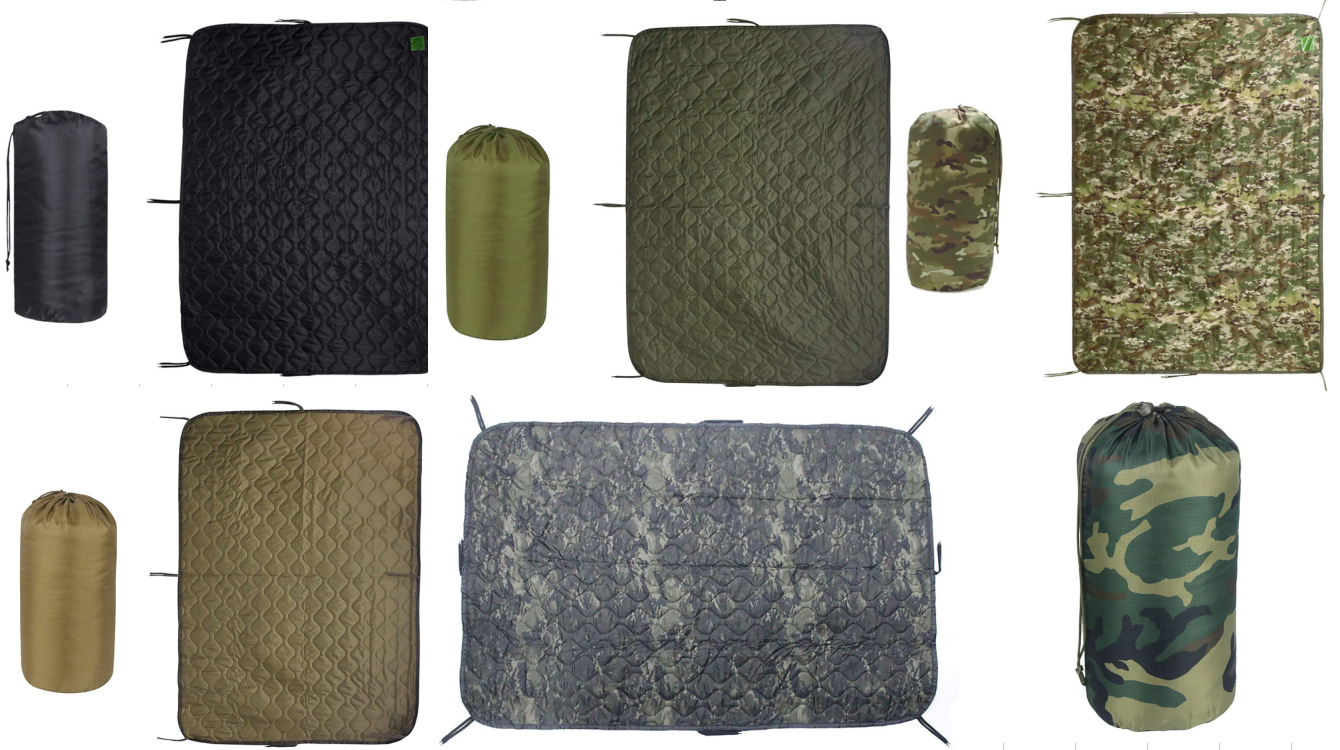 Company Advantage- Why you choose us?
1.Trustable
Natur Outdoors
is established in Jiangsu Province from 2001, mainly for military/camping gears. To serve our customers better, we set the office in Shanghai with providing more efficiency work.
2.Professional
We have been producing and supplying military/camping equipment, including sleeping bag, rain poncho, poncho liner and backpack...etc for army and/or police all over the world.

3.Competitive Price
To seek the competitive raw materials, achieve the business by factory to customer directly.

4. Stable production capacity
Providing quick and stable delivery time

5. Our Service
We could supply you the strongest support in developing your target market; the best suggestion and the quickest solution for your requirement; the best assist in new item developing, quality controlling and shipment time managing; the best service in logistic,transportation, stock and all the other need in a complete order.