Things to Look for When Buying A Good Raincoat
Jan. 24, 2022
In the event that we have rain, you decide to buy a raincoat. But which one do you buy? What do you need to keep in mind before you choose? We've compiled this handy list of 5 raincoat must-haves for you to use when choosing your options.
Waterproof fabric
The first and most obvious feature of any decent raincoat is that they use waterproof fabrics - not just waterproof fabrics/treatments. Waterproof fabrics have been tested in the lab using a hydrostatic head or water column test, which looks at how high the fabric can hold a column of water before water starts to penetrate. The waterproof fabric will have a waterproof coating.
NATUROUTDOORS military rain jackets are made of 190T/210T polyester, polyester with PVC coating or PU coating, and can withstand water pressure of 2000mm-3000mm. They have good waterproof ability and are an excellent choice for you.
A good hood
A key element is a good hood that can be pulled over your head. To prevent the hood from falling off your head - the way you adjust it is key. You can quickly pull on the rope to tighten the hood before it pours! Having a small peak in front of you is also a big advantage because it shields your eyes from seeing what's ahead of you.
At NATUROUTDOORS, all of our hoods are adjustable, so you're well taken care of during a storm and protect your eyes from the rain.
Length
The length of your raincoat is also something to keep in mind, because you'll be dry where it covers you, but wet where it doesn't! A slightly longer back is always good, and a longer length helps to cover the rain better. However, too long can restrict movement and be a tripping hazard.
NATUROUTDOORS is able to customize rain jackets and ponchos in different colors, lengths, and styles. We can provide you with a longer back, or a shorter back, it's up to you.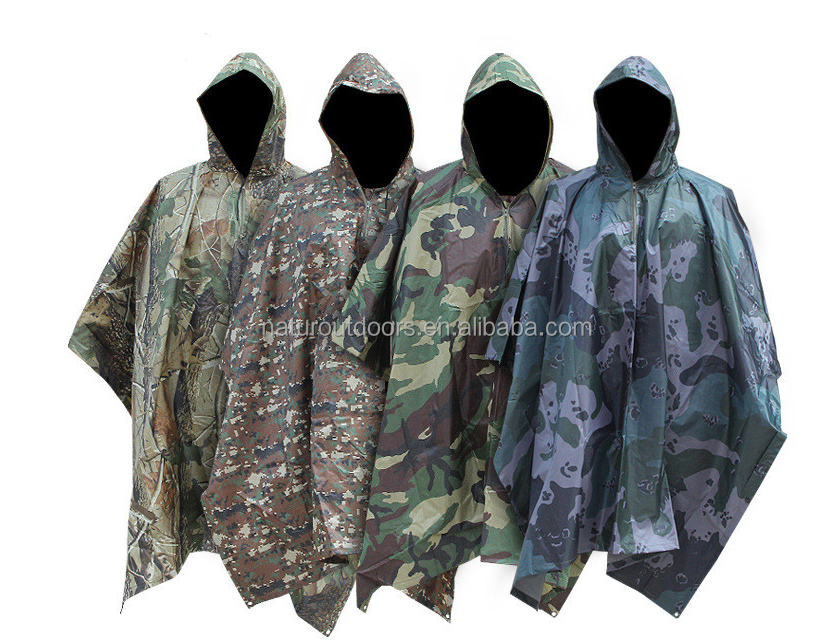 Sealed Seams
You may have a jacket that says it is waterproof up to 20 000 mm, but if the seams are not sealed in some way, it can still leak. Sewn seams are a weak link and water will find a way through and get you soaked even in very high specification fabrics.
All NATUROUTDOORS waterproof shells and performance jackets are fully seam sealed to make them truly waterproof. Please feel free to visit our website and make your purchase.
NATUROUTDOORS has been manufacturing and supplying military/camping gear including sleeping bags, ponchos, poncho liners and backpacks ...... for military and/or police around the world. We offer fast and consistent delivery times, the best advice and the fastest solutions for your needs, the best service in terms of logistics, transport, stock and all other requirements in a complete order.
Need to get a quote and cooperate? Click here to contact us.