How to Clean and Then Shine Your Tactical Boots
Feb. 16, 2022

Police, military and other tactical operators will wear tactical boots from time to time. Even if you don't need to polish your military boots, there's nothing more polished than a spray-on finish. NATUR OUTDOORS experts were involved in creating this simple step-by-step guide on how to shine tactical boots for formal events and everyday wear, so you can always look your best.

Military Hiking Boots
Military boots are different from regular Martin boots in that they offer greater outdoor functionality. Not only is the fabric excellent, but it also protects the foot and reduces ground impact. NATUR OUTDOORS military hiking boots feature the following.
Rubber + high abrasion resistant mesh lining, scratch resistant, durable and breathable, moisture wicking mesh lining prevents moisture from entering for all-day comfort, and cotton insoles are absorbent, breathable and quick drying.
Impact protection toe is suitable for tactical kicking, while heel shock absorption protects the Achilles tendon from impact during wide range of motion.
The EVA midsole is shock absorbing and cushioned, and all the foot protection of our boots provides ample ankle support and value.
Slip-resistant, oil- and abrasion-resistant rubber outsoles are designed for rugged terrain to improve mobility, stability and traction.
We also have military sleeping bags for sale, please visit our website to see more.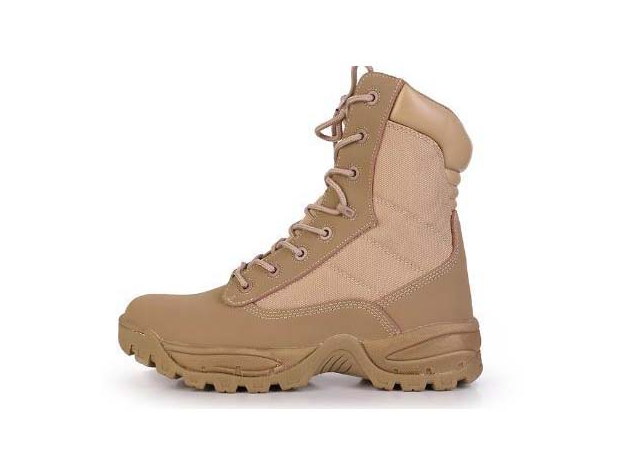 Tool Ready
Before you start flashing your tactical boots, give yourself some room to work - the process can be a bit messy. Grab an old sheet, towel or rag to cover your work area in case you run into a shoe polish disaster.
Then, gather all the materials you'll need:
Rubbing alcohol.
Shine brush.
Polishing cloth (100% cotton).
Wax shoe polish.
Cotton balls and cotton swabs.

Step-by-Step Instructions
Prepare your boots
To get the perfect shine, you need a good base. Prepare your boots for polishing by using a brush to remove dirt, grime and debris from the upper and sole. Wet a brush slightly and brush off any particles that shouldn't be there with gentle back-and-forth motions.
Shine your boots
Wrap the fingertips of your index and middle fingers in a soft, clean, dry cotton cloth. Take a small amount of polish with the covered fingers and apply the polish to the entire boot in small circular motions, taking more polish if necessary.
Dip a new, clean cotton cloth into water, wring it out, and wrap it around your index and middle fingers as before. Wrap your finger in a damp cloth, take a small amount of polish and rub it onto the boot in small circular motions. Repeat until you have covered the entire boot.
Switch back and forth between boots, applying six to seven coats of polish with a damp cloth, rewetting as necessary. Each time you add a new coat of polish, you will see the hazy shine of the boots become shinier and more even.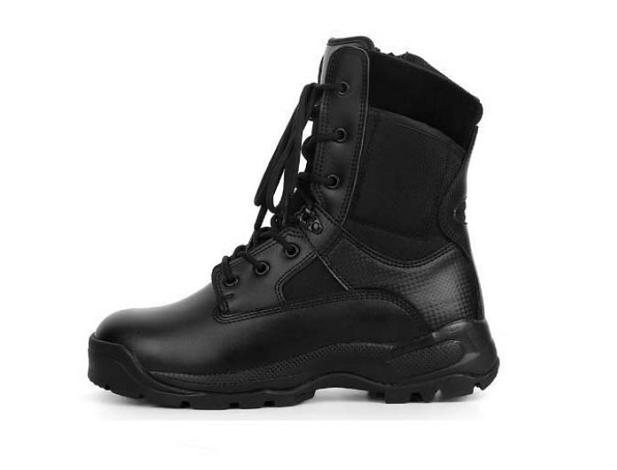 Hot Sales Army Military Altama Desert Boot
Wiping the boots dry
After all the polish has dried, polish your boots with a clean, dry piece of cotton or nylon cloth.
Finally, stare at yourself in your shiny tactical boots and pat yourself on the back for a job well done.
Expert Tip
Remember, your tactical boots need a smooth sole and a thick sole coating to get that mirror shine. These instructions on how to make tactical boots shine need to be done in the right order, otherwise you won't get the shiny finish you're after.
Here are a few more things to remember when polishing tactical boots.
Use small circular motions in each step.
Use the thinnest possible layer of polish.
The first shine is always the hardest - after that, you'll get a solid base coat and the process will become faster and easier.