What To Look For Buying A Sleeping Bag?
Jul. 14, 2022
A good night's sleep can make or break a camping trip. You'll feel better, run more miles, and have more energy if you're well rested than if you toss and turn all night. That's why it's important to have a good sleep system.
Here are the different factors to consider when choosing the right sleeping bag for you.
1. By activity
Camping
This sleeping bag is designed for comfort. Since you'll be camping with a car nearby, you won't have to worry about the weight of the bag, and these bags are usually cheaper! Also, if you are camping as a couple, you might consider getting a double bag. Still, keep an eye on the temperature rating, you want to be warm and comfortable.
Backpacking
Weight, compressibility, and temperature rating should be the main factors you consider. Of course, still, look for something comfortable, but it won't be as fluffy and big as a down comforter at home.
Mountain climbing
This is the combination of looking for a backpack and a winter bag. You'll want something lightweight, very warm, and waterproof. These bags are usually the most expensive because they have the highest quality insulation.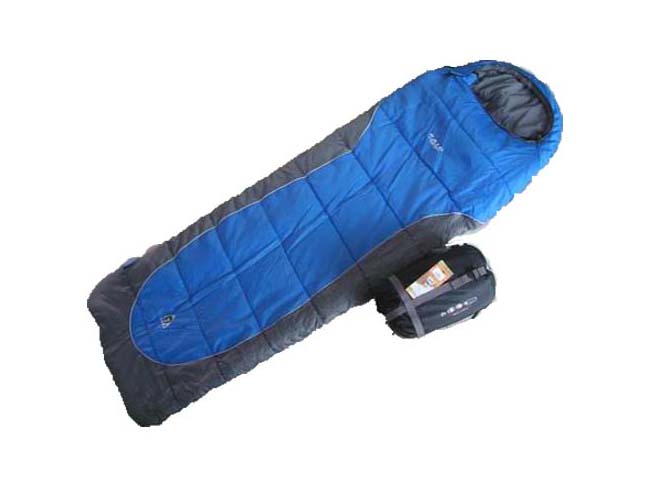 Spring/Autumn Mummy Sleeping Bag With Double Zipper
2. Know the temperature rating of the sleeping bag
The temperature rating of a sleeping bag determines the minimum temperature at which the bag is designed to keep the "average sleeper" warm. First, you want to choose a sleeping bag with a temperature rating that is lower than the lowest temperature you expect to encounter. If in doubt, it is wise to choose a bag with a lower temperature rating because you can always open the bag to cool it down when conditions get warmer.
It's useful to have a specification that is easy to compare, but it's important to learn more about temperature ratings and the terminology attached to those ratings. This topic can get complicated - here are some key points.
The "ISO" or "EN" temperature ratings indicate that you can reliably compare any two backpacking sleeping bags. These standardized tests mean you can actually compare temperature ratings between brands. (ISO and EN ratings are comparable. EN is the old standard, ISO is the new one; the ISO version improves the consistency of test results between labs.)
With ISO/EN testing, bags are assigned two temperature ratings: comfort and extreme. The "comfort" rating is the lowest temperature at which the bag will be comfortable for the average "cold sleeper" and is usually the temperature assigned to women's bags. The "extreme" rating is the lowest temperature at which the bag will be comfortable for the "warm sleeper", usually the temperature assigned to men's or unisex bags. If a temperature rating omits the term "comfort" or "limit," it may be a brand's estimate rather than an ISO or EN test result.
The temperature rating does not guarantee the warmth of any bag. The rating is helpful because all brands test bags in the same way, so you can compare bags from different brands.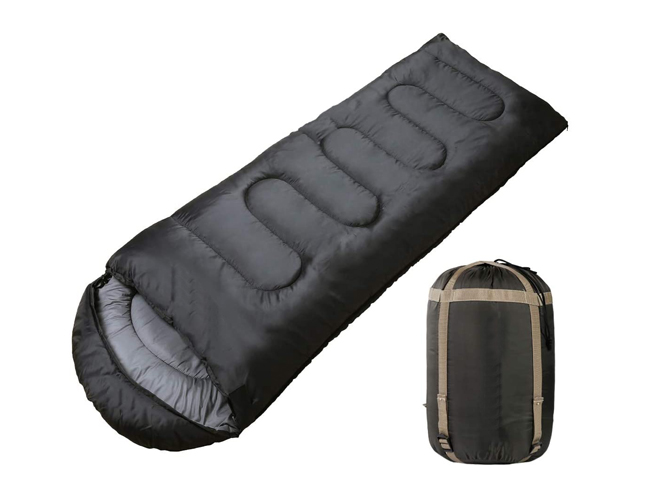 Emergency Sleeping Bag
3. Shape
A sleeping bag keeps you warm by trapping air and placing it next to your body. The roomier the bag, the cooler it will be.
Rectangular
You may have used one at a high school sleepover. Their feet are not tapered and they have plenty of room to move around. You can even unzip them completely and use them as a blanket. Because these bags are roomy, they are not very thermally efficient.
Semi-rectangular
These bags are somewhere between rectangular bags and mummy bags. Compared to the mummy bag, these bags are more spacious and more restricted than the rectangular bag, thus keeping you warmer. If you are a side sleeper or toss and turn at night, this bag may be a perfect choice. These will be a little heavier than the mummy bag.
Mummies
As the name implies, they look like mummies! They fit the feet, legs and body and are more thermally efficient, lighter and often warmer.
4. Choose the right sleeping bag for the season
Sleeping bags are divided into three main categories: winter, three seasons, and summer.
Winter: Winter bags are very snug and come with insulation, and they are typically rated at 10 degrees Fahrenheit or lower.
Three-season: Three-season bags can handle the cooler temperatures of spring and fall, as well as warmer summer conditions - typically, they range from 15 to 35 degrees Fahrenheit, which means they can also work in mild winter conditions.
Summer: Summer bags are roomy, lightweight, and well-ventilated, with a wide temperature range of 35 degrees Fahrenheit or higher.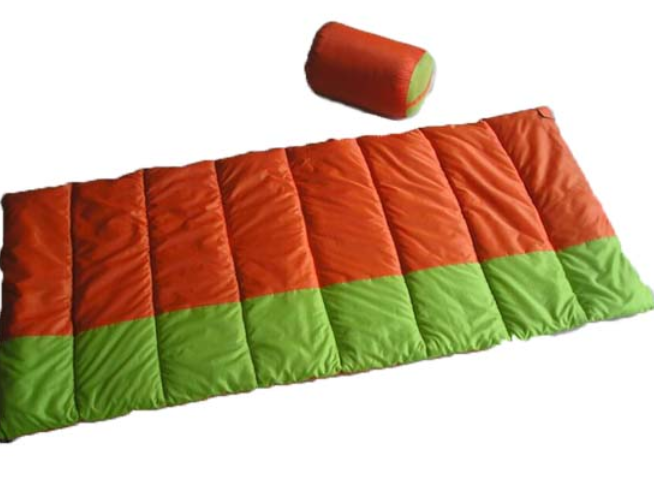 Outdoor Envelope Sleeping Bag
5. How to get the best sleeping bag size?
Sleeping bags also come in a variety of sizes.
Adult sleeping bags: Most sleeping bags are available in regular and long sizes. Some also come in short sizes. If your height is close to the upper limit of the "fit" specification for a size, try that bag and the next size up to see which you prefer. Usually, though, you'll be warmer and a little lighter by choosing the smaller of the two sizes.

Women's sleeping bags: These are designed to fit the contours of the "average woman" better. They are usually shorter, narrower at the shoulders and wider at the hips than men's or unisex bags.

Children's sleeping bags: These are simply shorter and smaller variants of adult sleeping bags, which also makes them more affordable. ISO and EN testing of them is not possible, but brands will still provide estimated temperature ratings for children's bags.
When deciding on a backpack sleeping bag, consider the following key factors.
Temperature rating
Choose a sleeping bag that is a little cooler than the typical low temperatures you would expect on a backpacking trip.
Sleeping System.
Comfort at a given temperature depends on many other variables, especially the R-value of the sleeping pad, which is another key component of the sleeping system.
Weight
The quality of the insulation and the cut of the pack are important factors. When comparing weights, compare bags with the same temperature rating.
Features
Consider the additional features that make your bag the best fit for you, including types of adjustable features, storage pockets, pad compatibility, etc.
For more information and consultation, contact us here!